Meet Dr. Baird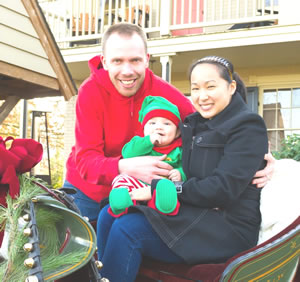 Dr. Baird, an American Born Chinese (or ABC), originally hails from the Montgomery County area of PA. Dr. Baird graduated cum laude from Grove City College in 2007 with a BS in Molecular Biology. During her time there, she was awarded the Trustee Academic Scholarship, a full tuition scholarship based on one's current GPA.
She attended the University of Pittsburgh School of Dental Medicine and graduated in 2011. While at Pitt Dental, Dr. Baird founded the Asian Pacific American Dental Student Association and was an active member of the Student National Dental Association. She was also a member of the American Student Dental Association.
Upon graduation, Dr. Baird began a one year general practice residency at the Lancaster Cleft Palate Clinic through Lancaster General Hospital in Lancaster, Pennsylvania. Dr. Baird is a current member of the American Dental Association, the Lancaster County Dental Society, the Pennsylvania Dental Association, the Christian Medical and Dental Association, and the Academy of General Dentistry.
Dr. Baird's overall goal in dentistry is to encourage patients to view their oral health as an integral part of their overall health. The oral and systemic health connection is constantly being demonstrated through scientific research. Dr. Baird seeks to bridge the gap between creating optimal oral health and educating patients on how that influences their wellness.
Dr. Baird has been on several medical/dental missions trips to Nicaragua, Ghana, Vietnam, and Cambodia. She looks forward to participating in more missions trips in the future.
A member of the Chinese Bible Church of Lancaster, Dr. Baird is involved in playing piano and organ for worship. She is also a member of the church's young adult fellowship and is thankful for the many blessings she, her husband, and son have experienced upon moving to beautiful Lancaster County. She enjoys spending time connecting with her family and other people in general, riding her bike, seeing Jesus love and bless people, and eating yummy food.